THE CITY Rama 9-Ramkhamhaeng
Address
Kanchanaphisek Parallel Road, Saphan Sung, Saphan Sung, Bangkok
Kanchanaphisek Ring Road, MRT Orange Line, Motorway - Si Rat Expressway, Airport Rail Link Huamark, Thap Chang
Paseo town Ramkhamhaeng, Big C extra Sukhaphiban 3, Home pro Ramkhamhaeng, Kurve 7 Krungthep Kreetha, Market today Krungthep Kreetha, The promenade, Fashion Island, The mall Bangkapi, The mall Ramkhamhaeng
Nawamin Rachuthit School, NIDA business school, Ramkhamhaeng University, Assumption University Huamark, Ramkhamhaeng Hospital, Vejthani Hospital, Ladprao Hospital, Samitivej Srinakarin Hospital, Suvarnabhumi Airport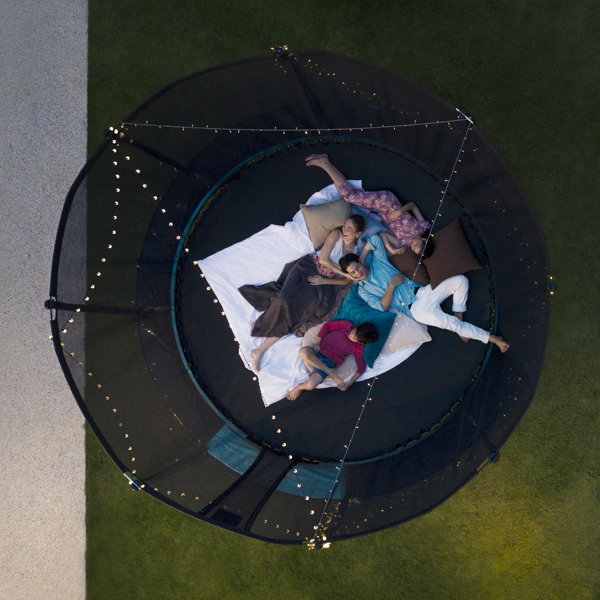 Where Function Meets Luxury
The luxurious Modern-style detached house is just what the new families are looking for. It is good for medium to large size households. Fully functional space, with Home Automation, it can be adjusted to fit the owner's needs.
Unit type

2-Storey Single Detached House

Living Area

330-380 Sq.m.
Exclusive entertainment and co-working space
Its multi-purpose room, which is readily adaptable, is fully equipped for full-option entertainment, with big inviting sofas. Your family can enjoy the better viewing experience in our private screening room.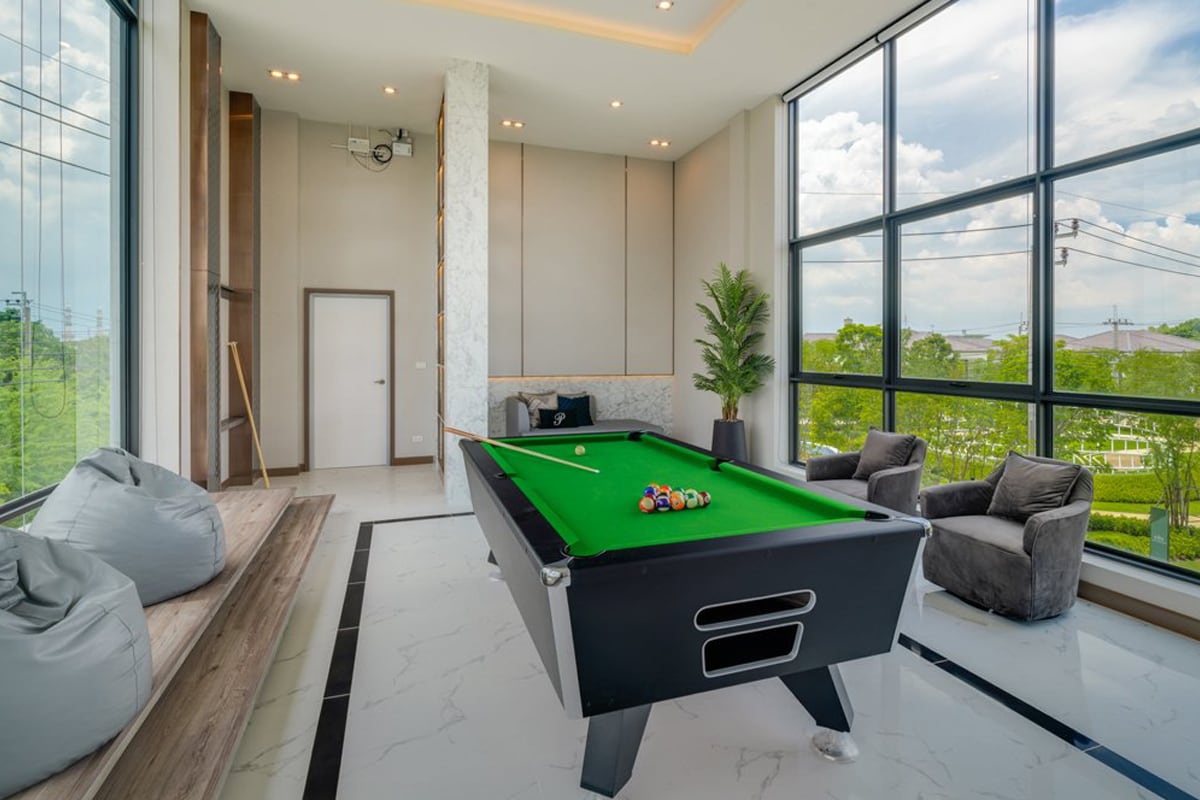 You can enjoy the panoramic garden view, seen through the gym's expansive floor-to-ceiling windows, while working out with selected equipment; treadmills, stationary bikes, weight training gears, and muscle training machine.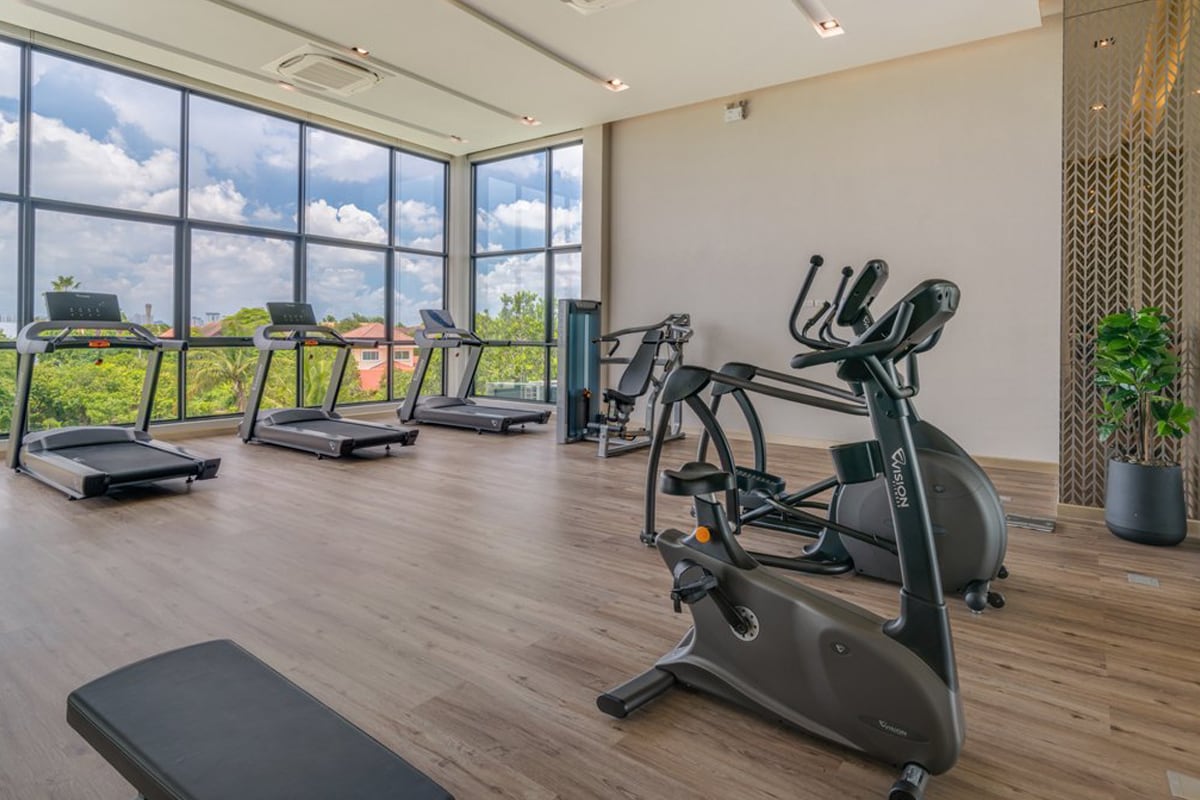 The healthier salt system pool, with a separate kid's pool, is perfect for all. Swimming and spending family time among natural set-up is a real bliss.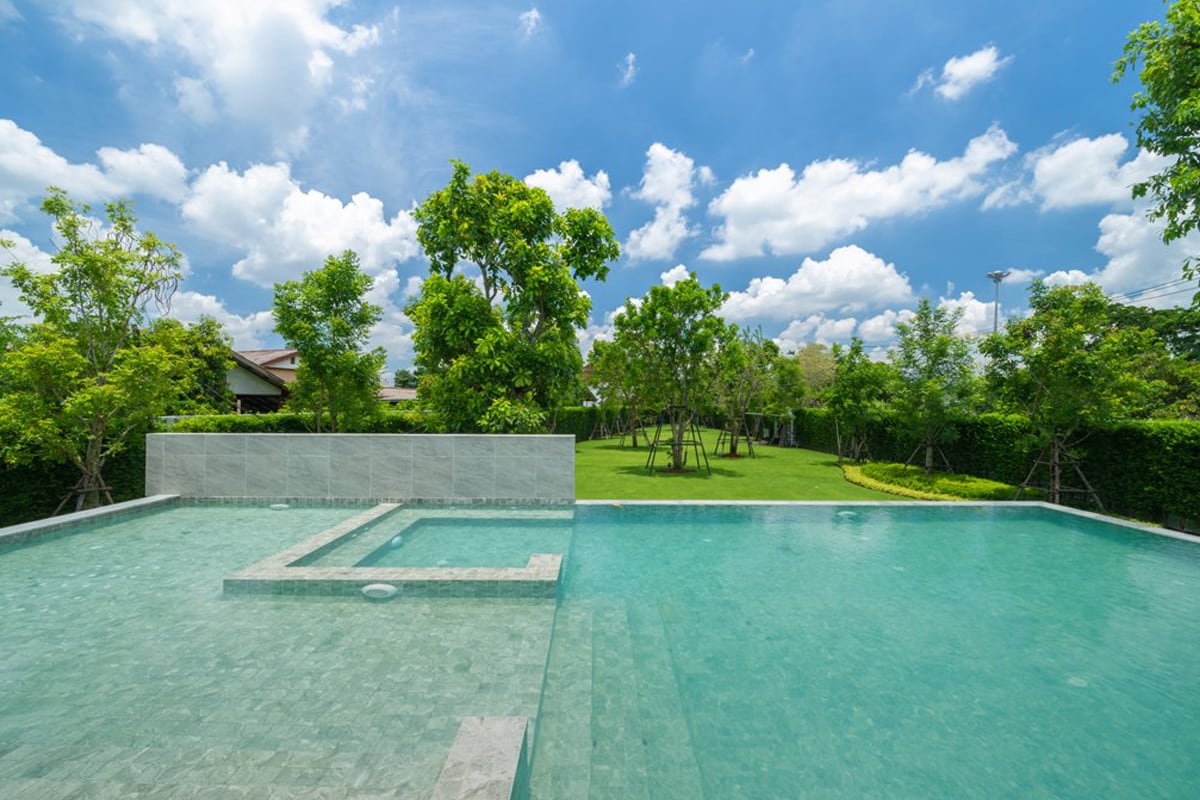 The outdoor playground design is inspired by the cosmic wonder of space. Kids enjoy climbing in Space House that resembles an interior of a spaceship, with colourful padded flooring for extra safety.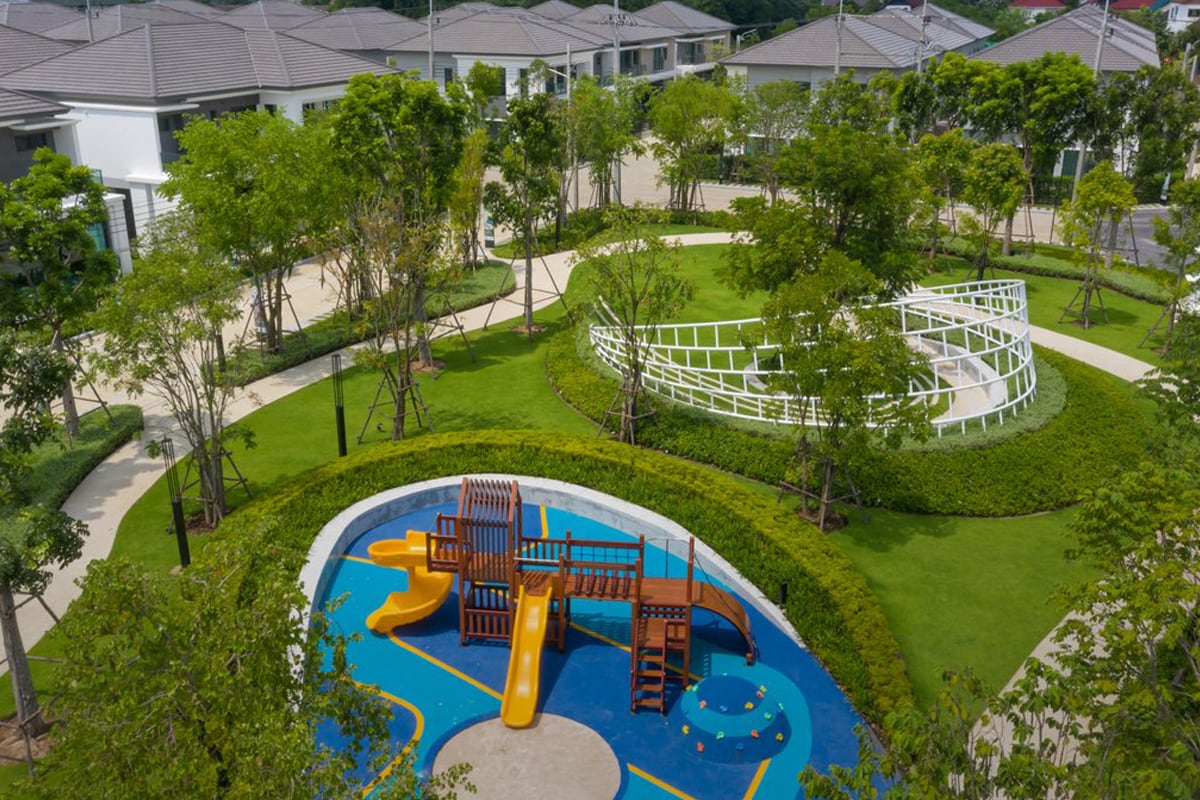 The outdoor Kid's club is designed to accommodate all kinds of activities from climbing to the ball pool. The club also serve as library and multi-purpose area for the kids.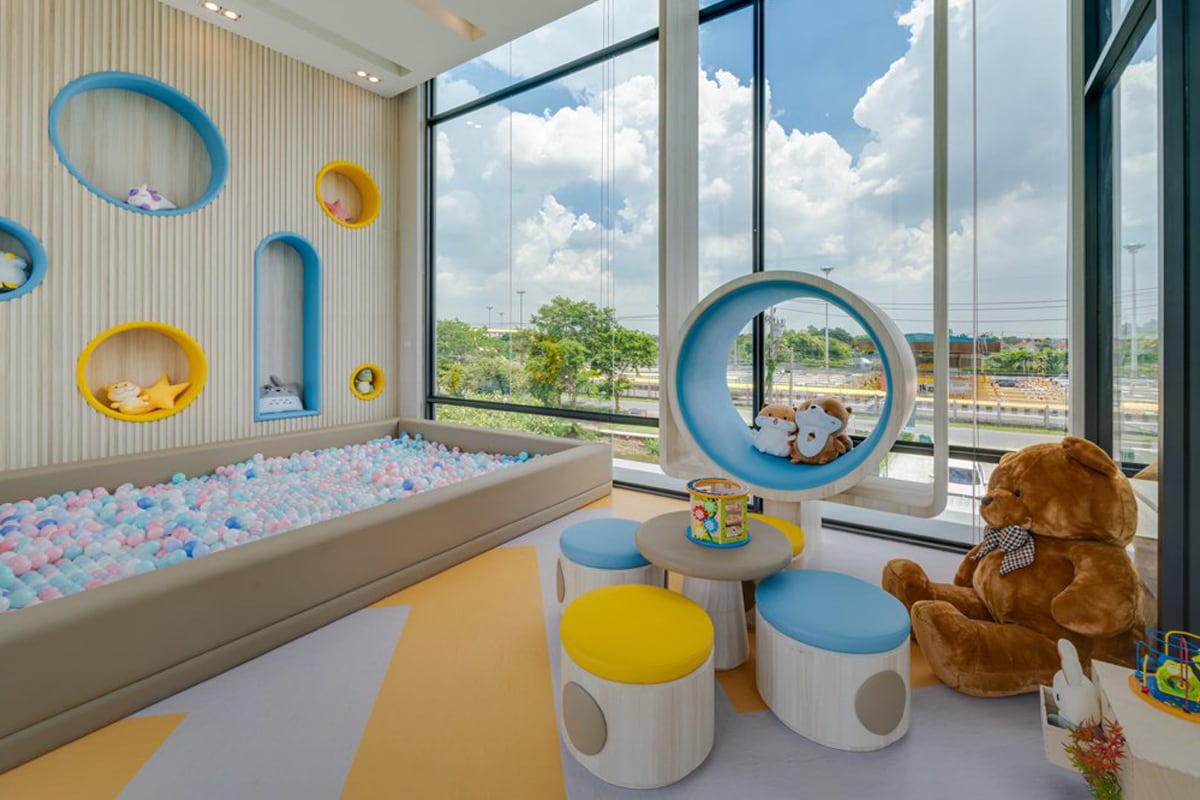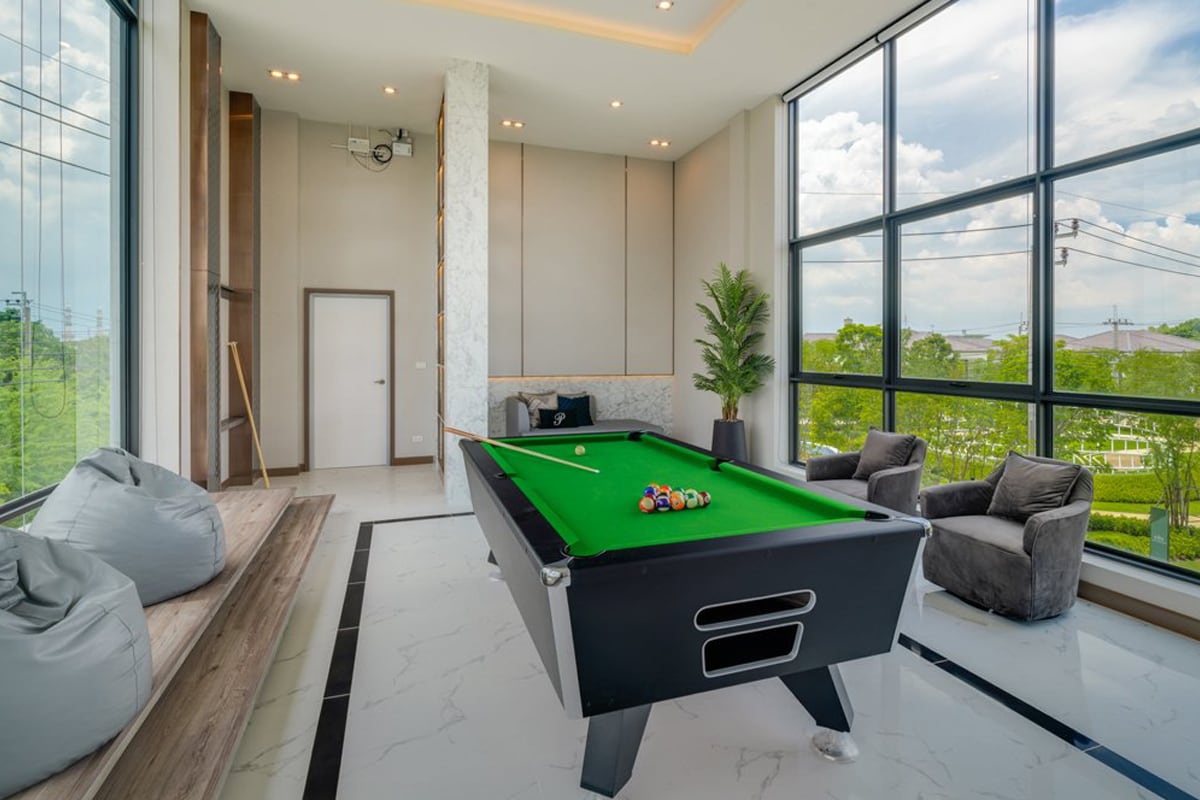 Floor plan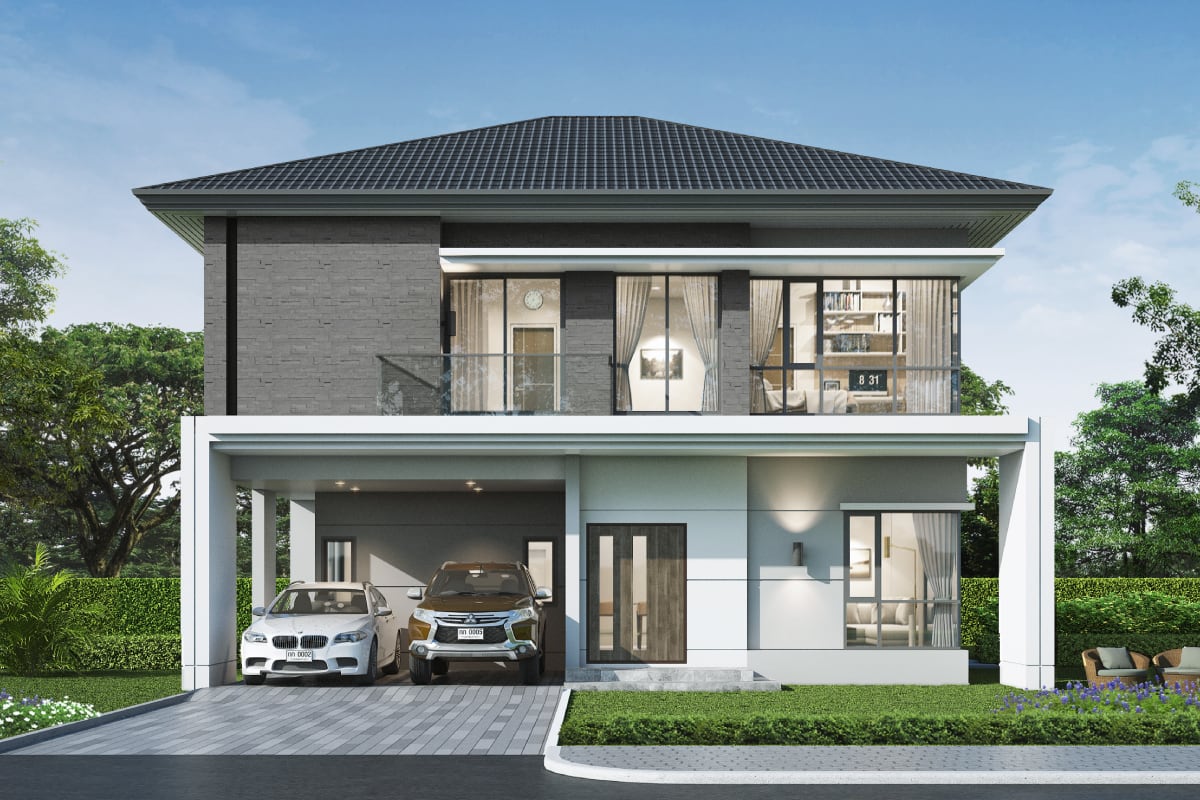 บ้านเดี่ยว 2 ชั้น
พื้นที่ใช้สอย 233 ตารางเมตร
4 ห้องนอน 5 ห้องน้ำ
2 ห้องนั่งเล่น 1 ห้องรับประทานอาหาร
1 ห้องครัว 1 ห้องเก็บของ
ที่จอดรถ 2 คัน (ในร่ม)
บรรยากาศภาพรวมโครงการ
บรรยากาศ ภายในโครงการ THE CITY พระราม 9- รามคำแหง บ้านเดี่ยวหรู ราคาเริ่ม 10.99 - 25 ล้าน*
Review จาก Homebuyer
รีวิวเจาะลึกแบบบ้านขายดี ราคาเริ่มต้น 10.99 ล้าน* แบบบ้าน serein และ inscape พื้นที่ใช้สอย 233-275 ตรม.*
Promotion
Promotion
"โปรตัวตึง #ตึงนักไปพักก่อน
รับแพ็กเกจท่องโลกแบบห้าดาวและส่วนลด รวมสูงสุด 5 ล้าน*
จองและโอนบ้านเดี่ยว ภายใน 31 ธ.ค.นี้
รับโปรจัดเต็มส่งท้ายปี!!
✅ แพ็กเกจท่องเที่ยวสูงสุด 1 ล้าน*
✅ ส่วนลดสูงสุด 4 ล้าน*
✅ ฟรี! ค่าใช้จ่ายวันโอน 
✅ ฟรี! แอร์+ม่าน* 
---------------------------------------------------------------------------
โอกาสสุดท้าย ก่อนปิดโครงการ
THE CITY พระราม 9 – รามคำแหง
▪️ บ้านเดี่ยวหรู ใจกลางรามคำแหง 4 นอน 5 น้ำ
▪️ 2 นาทีถึง ทางด่วน - รถไฟฟ้า* เชื่อมต่อพระราม 9
l ราคาเดียว 10.99 ล้าน* l 
รับสิทธิพิเศษลดสูงสุด 3,000,000 บ.* คลิก! : ShortenURL
พบกันได้ที่ Sales Gallery บ้านเดี่ยวเอพี
#APTHAI #APhome #THECITY #TheCityRama9Ramkhamhaeng
*เงื่อนไขเป็นไปตามที่บริษัทฯ กำหนด บริษัทฯ ขอสงวนสิทธิ์ในการเปลี่ยนแปลงเงื่อนไข หรือยกเลิกได้ โดยไม่ต้องแจ้งให้ทราบล่วงหน้า
Register to get info and privilege