AP Thailand posts Bht 37,141 million in first-nine-month revenue   
08 November 2023
Net profit reaches Bht 4,719 million
AP Thailand posts Bht 37,141 million in first-nine-month revenue   
AP Thailand with a promise of Cheevit Dee Dee Tee Lueak Eng Dai reveals growing performance in first nine months of 2023
Total revenue reaches Bht 37,141 million with net profit as high as Bht 4,719 million as condo recovery and solid low-rise business lead to industry-leading growth
In the final stretch of the year AP remains robust with launches of 23 new projects worth around Bht 35,740 million
VIP DAY on 11 – 12 November slated for presale of ASPIRE Vibha-Victory, a new road-side condo near Victory Moment linking Vibhavadi-Rangsit on offer at starting price of Bht 98,000/sq.m. or Bht 2.79 million* Up to 6% of discount available to bookers at the event. Register to enjoy another maximum discount of Bht 100,000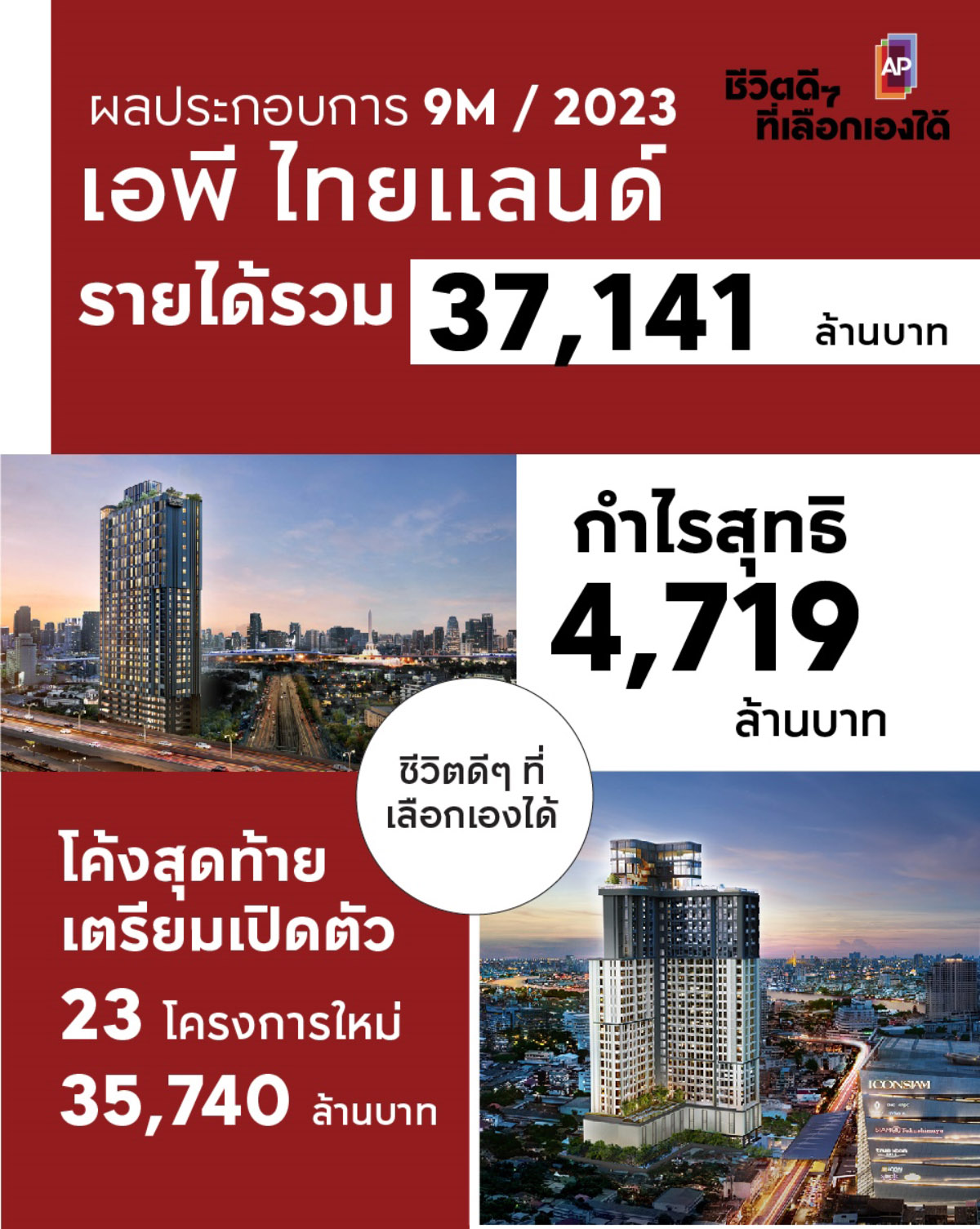 Bangkok (8 Nov 23) Mr. Vittakarn Chandavimol, Chief Corporate Strategy and Creation, AP Thailand Public Co., Ltd., Thailand's leading property developer with a promise of Cheevit Dee Dee Tee Lueak Eng Dai, said that in the first nine months of 2023, the company had a satisfying growth with total revenue from low-rise products, condominiums (100% JV) and other businesses reaching Bht 37,141 million and net profit standing at Bht 4,719 million. In the third quarter, the company was able to generate Bht 13,285 million of revenue from low-rise products, condominiums (100%JV) and other businesses, an increase from last year's total revenue of Bht 12,290 million. Net profit for the quarter stood at Bht 1,697 million, a hefty increase of 19.6% on Bht 1,418 million recorded the previous year. 
In addition to low-rise products such as townhomes and single detached homes, which are the key factors driving the company's solid growth and profit all along, the condominium portfolio is another major contributor to the firm's growth. In the third quarter, AP's condominiums started booking revenues from two new transfer-ready projects, namely   ASPIRE Pinklao-Arun Ammarin and THE ADDRESS Siam-Ratchathewi as well as seven ready-to-move-in projects from which the company had started recording revenues.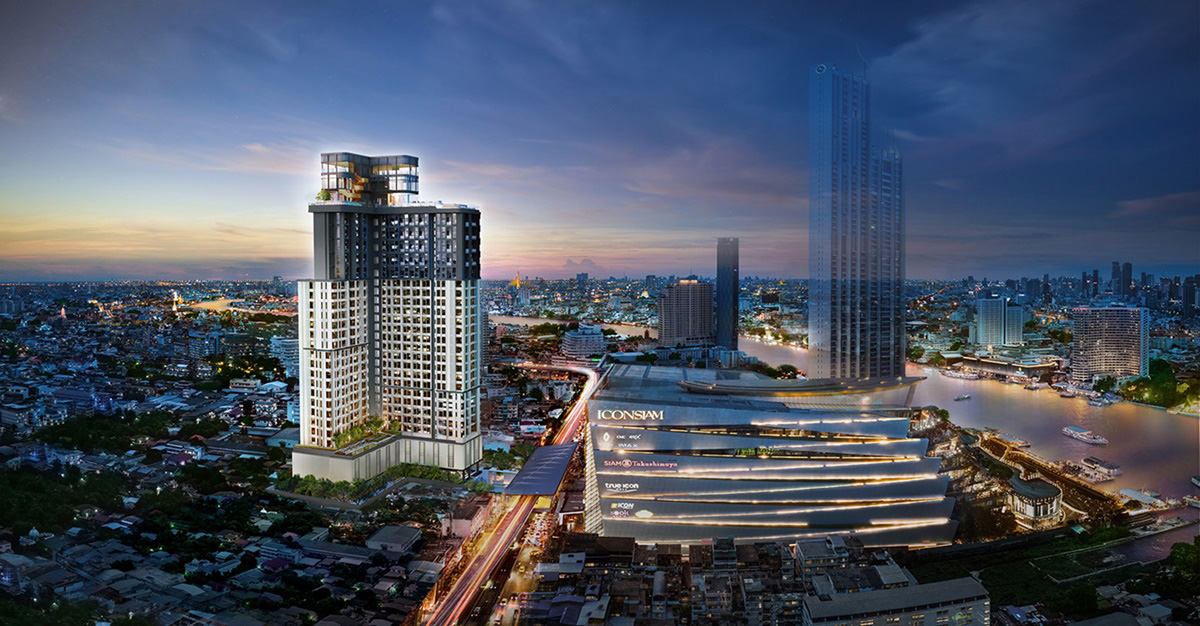 For the final quarter of the year, the company is preparing to launch 23 new projects worth around Bht 35,740 million. Of the 23 projects, 11 are townhome developments worth Bht 11,050 million, 9 are single detached home projects worth Bht 16,450 million and 2 are condominium projects worth Bht 7,300 million. There is also one development project upcountry worth Bht 940 million. All in all, this year the company will have a total of 169 projects worth a combined Bht 130,630 million readily available for sale in Bangkok and the provinces.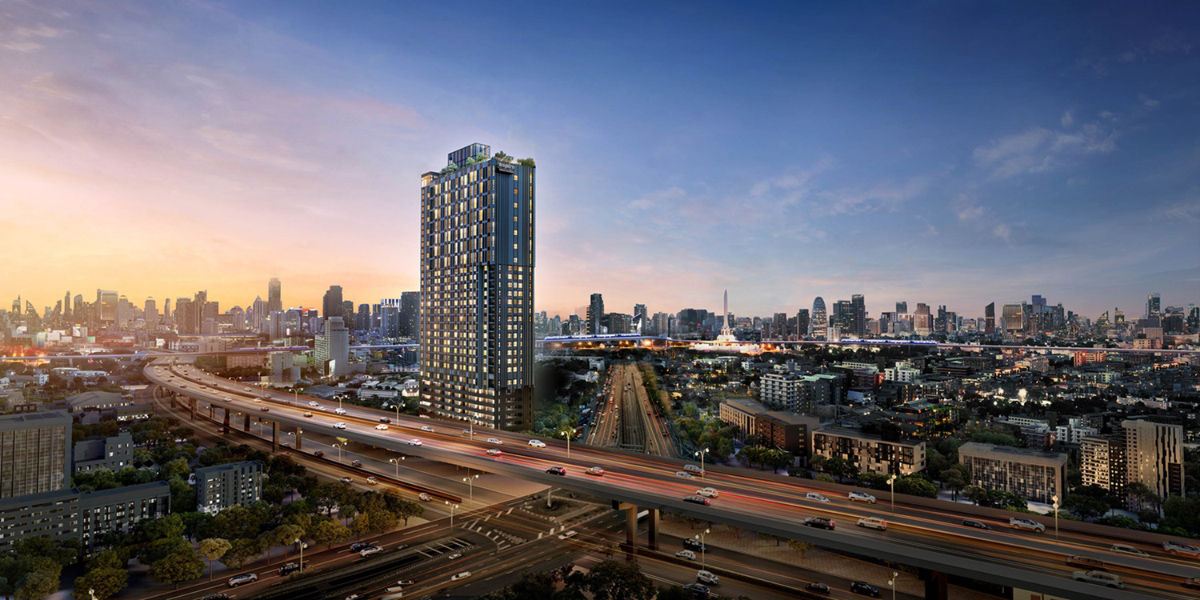 On 11 – 12 November 2023, the company will organise VIP DAY for a presale of ASPIRE Vibha-Victory, a Bht 2,300-million 29-storey condominium development with 593 units near Victory Monument linking Vibhavadi-Rangsit with convenient access to the expressway system and a variety of transportation modes, including BTS, MRT and Airport Rail Link. At the event, the company will unveil for the first time ASPIRE NEW UNIT LAYOUT which comes standard for the whole project. Prices of the project start at Bht 98,000/sq.m. or Bht 2.79 million* A maximum special discount of 6%* is available to those who book at the event and customers may register to enjoy another maximum discount of Bht 100,000* at  https://www.apthai.com/th/condominium/aspire-vibha-victory
For updates on all new single detached home, townhome and condo projects from AP throughout 2023, click https://apth.ly/APNewHome2023
APThai #ชีวิตดีๆที่เลือกเองได้ #APNewHome2023
#APThaiUpdate2023

 

AP Thailand – Cheevit Dee Dee Tee Lueak Eng Dai