AP Thailand awarded for outstanding CEO and CFO at IAA Awards for Listed Companies
25 September 2023
a testament to business leadership and trust from investor community
AP Thailand awarded for outstanding CEO and CFO at IAA Awards for Listed Companies
Bangkok (14 Sep 23) AP Thailand Public Co., Ltd., the country's leading property developer, has enjoyed a string of successes. The company recently received two prestigious awards in the property and construction category from IAA Awards for Listed Companies 2022-2023 held by Investment Analysts Association. Outstanding CEO award was presented to Mr. Anuphong Assavabhokhin, the company's Chief Executive Officer, while the award for Outstanding CFO was presented to Ms. Krongthong Plukpholngam, Deputy Chief Financial Officer. Both awards were based on votes from analysts and fund managers who acknowledged industry leaders for the part they played in driving their organisations to sustainable growth as well as consistently sharing well-rounded  information on the companies they run, which is significant to the growth of the economy, the capital market and the country as a whole and in line with AP Thailand's commitment to
in-depth performance in order to lead in the real estate industry and let everyone have Cheevit Dee Dee Tee Lueak Eng Dai.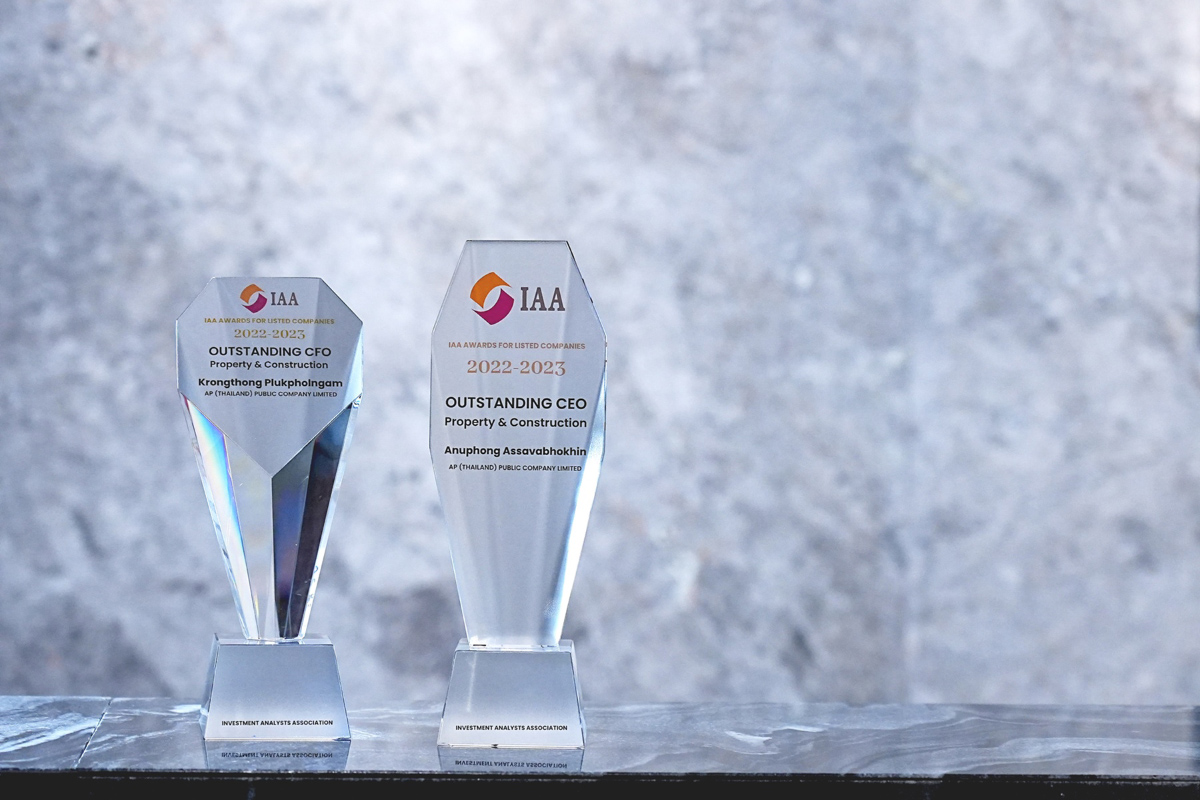 Mr. Anuphong Assavabhokhin, Chief Executive Officer, AP Thailand Public Co., Ltd., said, "AP Thailand would like to thank analysts, Thai investors and Investment Analysts Association for trusting and believing in the company's business strategy. These awards give us pride and encouragement we need to keep improving to empower everyone in Thai society to have Cheevit Dee Dee Tee Lueak Eng Dai, which is the ultimate goal of AP."
AP Thailand was recently rated "A" with a "Stable" outlook by credit rating agency TRIS Rating. In 2023, the company planned to launch 58 new projects worth around Bht 77,000 million and set a target for presales at Bht 58,000 million and total revenues, including those from 100% joint venture, at Bht 57,500 million. For the second half of the year, the company planned to launch 40 new projects worth Bht around 55,940 million.
For updates on all new single detached home, townhome and condominium projects from AP throughout 2023, click https://apth.ly/APNewHome2023
#APThai #ชีวิตดีๆที่เลือกเองได้ #เลือกชีวิตดีๆที่Happy #APNewHome2023 #APThaiUpdate2023
"AP Thailand – Cheevit Dee Dee Tee Lueak Eng Dai"