AP Thailand reiterates No. 1 position in condos for urbanites Unveils 2 new projects to wrap up 2023
06 November 2023
ASPIRE Vibha-Victory & RHYTHM Charoennakhon Iconic    
AP Thailand reiterates No. 1 position in condos for urbanites Unveils 2 new projects to wrap up 2023
AP Thailand, with the brand promise of 'Cheevit Dee Dee Tee Lueak Eng Dai' reinforces its leading position in condos for urbanites as it embraces the gradual industry recovery with 180% growth from 4 AP condo brands: THE ADDRESS, RHYTHM, LIFE and ASPIRE – all superior in all aspects sought by the new gen
The final stretch of 2023 will see AP launch 2 new projects worth Bht 7,300 million: ASPIRE Vibha-Victory, stepping over all old rules, and RHYTHM Charoennakhon Iconic, a joint venture condo as ultimate pride of the year
ASPIRE Vibha-Victory offers ALL NEW SIMPLEX and ALL NEW VERTIPLEX residences in new super WOW layouts from ASPIRE brand, which step over all old rules with groundbreaking vertical space and double space of up to 4.45 metres for optimized actual practicality. VIP DAY on 11-12 November
Live as You ASPIRE with up to 18 condo layouts to choose from for ALL NEW SIMPLEX in 11 designs with 26.5-60 sq.m. and ALL NEW VERTIPLEX in 7 designs with 26-46 sq.m. – convenience is promised with a location close to Victory Monument and easy access to Vibhavadi-Rangsit
All relaxing aspects optimized with peaceful oasis-like greenery right in the heart of Bangkok to deliver optimal comfort to heal the mind for real relaxation in 3-storey facilities with more than 20 functions on an area of over 3,500 sq m.
RHYTHM Charoennakhon Iconic - BLUECHIP DESIGN RESIDENCE offers the ultimate lifestyle design from the newest flagship Bht 5-billion joint venture, as an original super condominium opposite ICONSIAM near BTS Charoennakhon. It starts at Bht 159,000/sq.m. The show unit is open for the first visit on 25-26 November. Register to get up to Bht 300,000* discount at https://www.apthai.com/th/condominium/rhythm-charoennakhon-iconic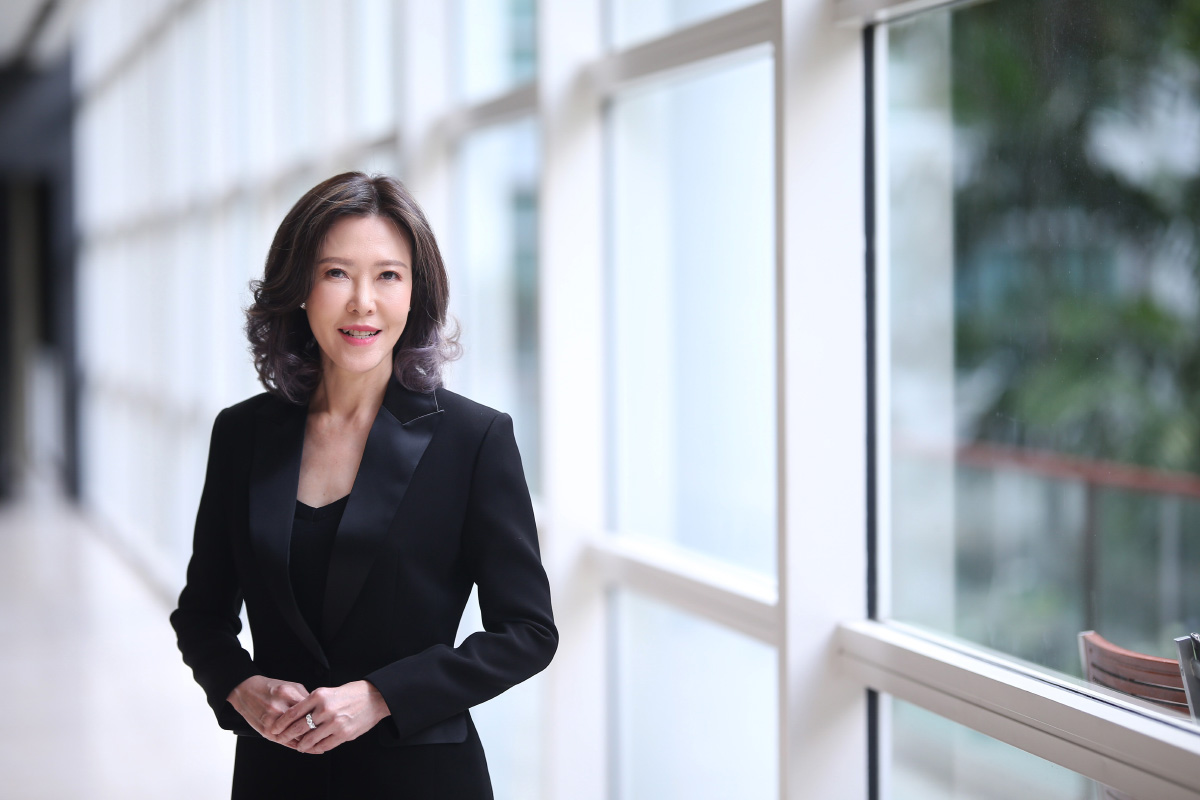 Bangkok (6 Nov 23) – Ms. Kamolthip Bumrungchatudom, Chief Business Group, Condominium, AP Thailand Public Co., Ltd., said the company operates based on its brand promise to give homeowners with 'Cheevit Dee Dee Tee Lueak Eng Dai'. As for the condominium business, she said that in the past year, the business enjoyed a huge success in the face of all the challenges presented by a recovery from all the situations faced by the industry. She said the condo market had already hit rock bottom and things were gradually looking up as evidenced by a string of new condominium launches, industry presales and ownership transfer numbers. In the last 10 months, the company's condominium business recorded Bht 10,713 million in net presales, a growth of 180% from the whole 2020's net presales when the company faced a huge crisis and a 15.8% increase in the same period of last year. For this year, the condominium business has set a net presales target of Bht 13,000 million, which she believes will be achieved.
The factors behind the company's condo sales gradually getting back to normal, apart from an AP's evolving approach to project development, including the fact that the company maintains a comprehensive brand portfolio. That is the company has products available in every segment. Also as important as product development is the communication of brand position because brand positioning is an essence in every detail of the product design in order for AP condos to be able to create an engagement and to sit in the hearts of consumers in every segment. AP condos are currently available in four product brands, each of which has a position that clearly mirrors a particular target group. Including, THE ADDRESS, a prestige-luxe condominium at Bht 250,000 per sq.m., the product lets you 'Create Your Own Etiquette', RHYTHM, a luxury condominium priced at Bht 160,000-200,000 per sq.m., comes with an 'Obsession for Perfection' brand positioning, LIFE, a high-class condominium priced at Bht 100,000-160,000 per sq.m. is positioned as the Platform of Success and ASPIRE, the best mass-segment condominium with price ranging from Bht 60,000 to 100,000 per sq.m., enables you to 'Live as You ASPIRE'.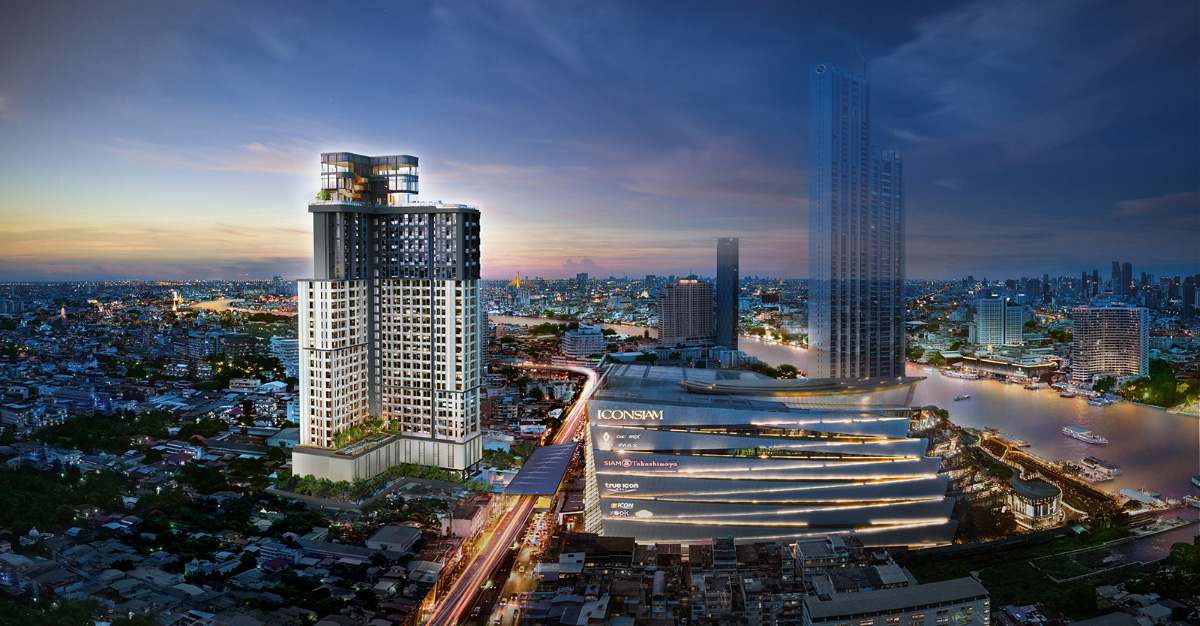 "When the behaviour of customers changes, brands need to adapt accordingly. We have slightly refreshed the Thai versions of the brand taglines for our four condo brands to differentiate for more clarity, and releases a new campaign under the concept of 'Start the Life of Your Choice at AP Condo'. Not only do we communicate the positions of all AP condo brands to make it easier for urbanites to remember, but we also want to present what makes AP condos superior in all dimensions and what makes them the answer for what is sought after by the new generation of homebuyers. Based on the insights we have, customers these days are very discernible. They make comparisons to find the condos that suit them best. So, we want to present the four condo brands we have as the answer for what they really want. Whether it s the interior design of the residences that would complete living space in the form of both luxury and mass segment lifestyles, or in the way they allow you to do everything freely inside the unit for working individuals seeking freedom and families emphasizing quality time spent together. This also extends to the common areas, which cater to both active and prestige lifestyles.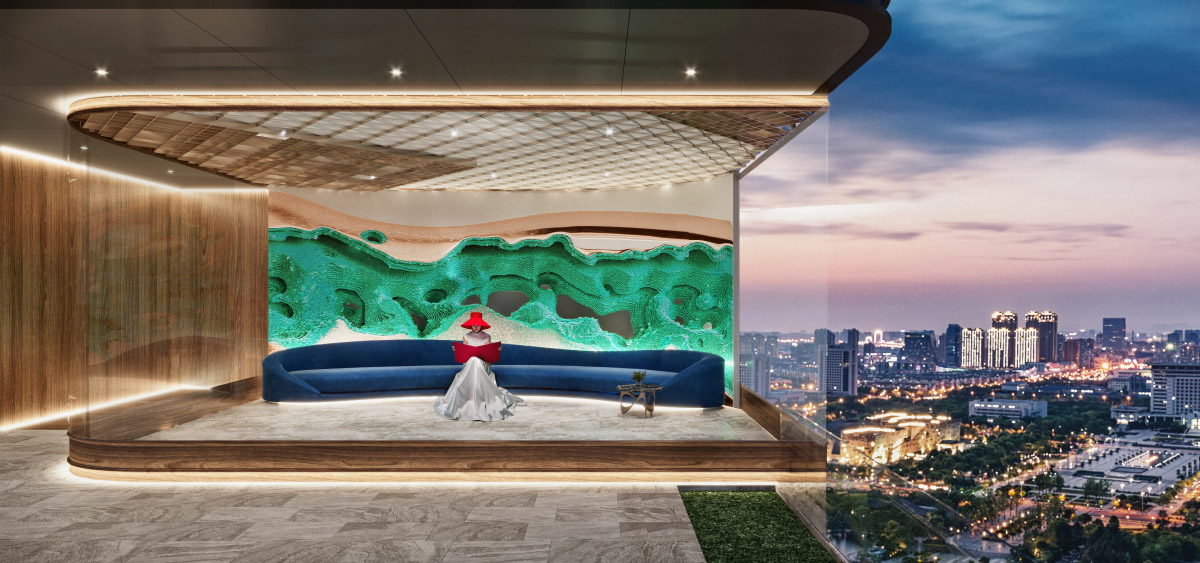 In the final stretch of this year, the company's condominium business will launch two new projects worth a combined Bht 7,300 million: ASPIRE Vibha-Victory, a 29-storey condominium development with 593 units valued at Bht 2,300 million, the project has its VIP DAY scheduled for 11-12 November and RHYTHM Charoennakhon Iconic, a 29-storey joint venture condo project with 577 units, valued at Bht 5,000 million. The show unit for this development will be open for the first visit on 25-26 November. This year, the company's condominium business has set a target for net presales at Bht 13,000 million, which is believed to be reachable due to the planned new launches as well as 13 existing projects being sold and transferred.
Ms. Niyamaporn Tohsanguanpun, Executive Vice President, Marketing and Sales, AP Thailand Public Co., Ltd., said ASPIRE Vibha-Victory is a new version of ASPIRE condo the company intends to develop specifically in response to the demand and lifestyle of prospective customers in the location. The market for condominiums in the Din Daeng and Ratchaprarop area, linking Victory Monument and Vibhavadi, has seen no new supplies become available in the last five years. The existing supplies range from Bht 115,000-155,000/sq.m. with two out of four projects having been 100% sold, which is a good take-up rate. There are currently around 100 units left unsold, all are part of the projects launched in 2017. Therefore, it is a good opportunity for AP's condo business to go in that area to develop the market. The location is full of potential, surrounded by as many as 17 medical centres, offering convenient access to other locations in Greater Bangkok and Pathum Thani, and in proximity to Victory Monument, Rama IX and Vibhavadi Rangsit. The development concept of ASPIRE Vibha-Victory is 'Convergence Living as you desire' – something to be achieved through three special elements: 'Flexible as you desire', which means stepping over all the old rules with new layouts designed for total practicality 'Recharge as you desire', where you can choose the mode you want to be for every aspect of your relaxation, and 'Moveable as you desire' thanks to the project's convenient location.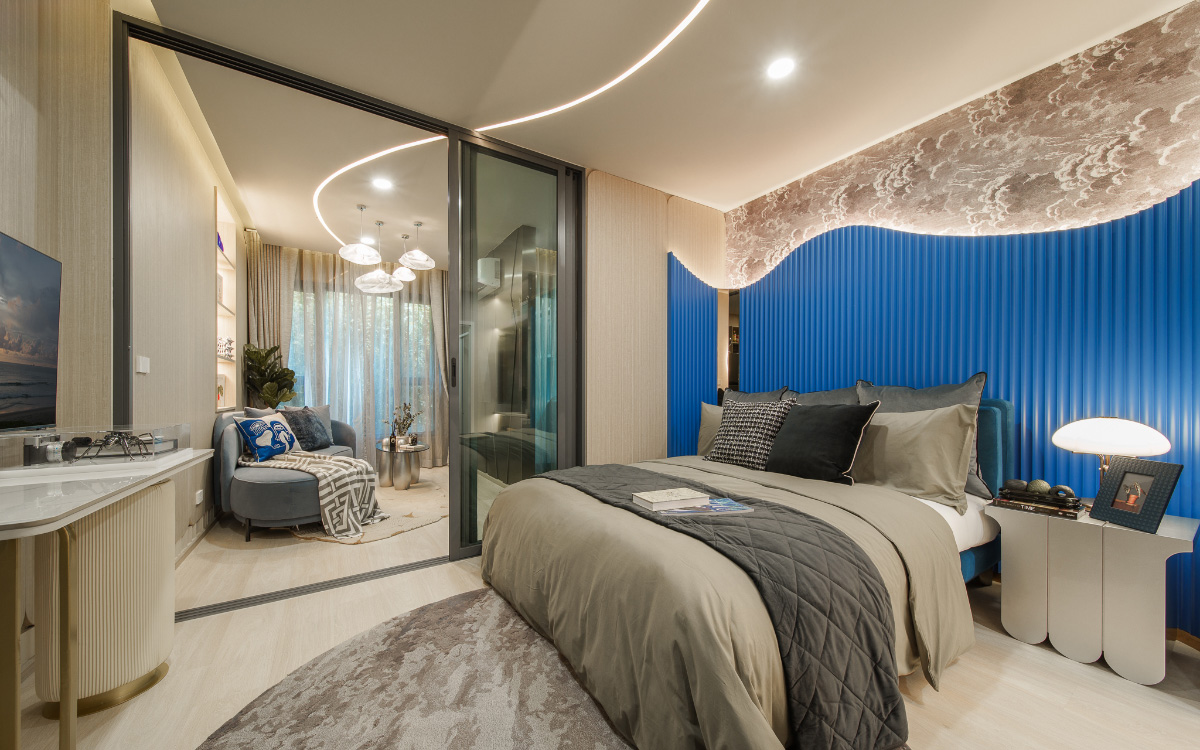 In the 'Flexible as you desire' aspect, the company is introducing ASPIRE NEW UNIT LAYOUT for all residences at ASPIRE Vibha-Victory. The layout offers freedom in all life dimensions from up to 18 optional designs. There are two residence types to choose from: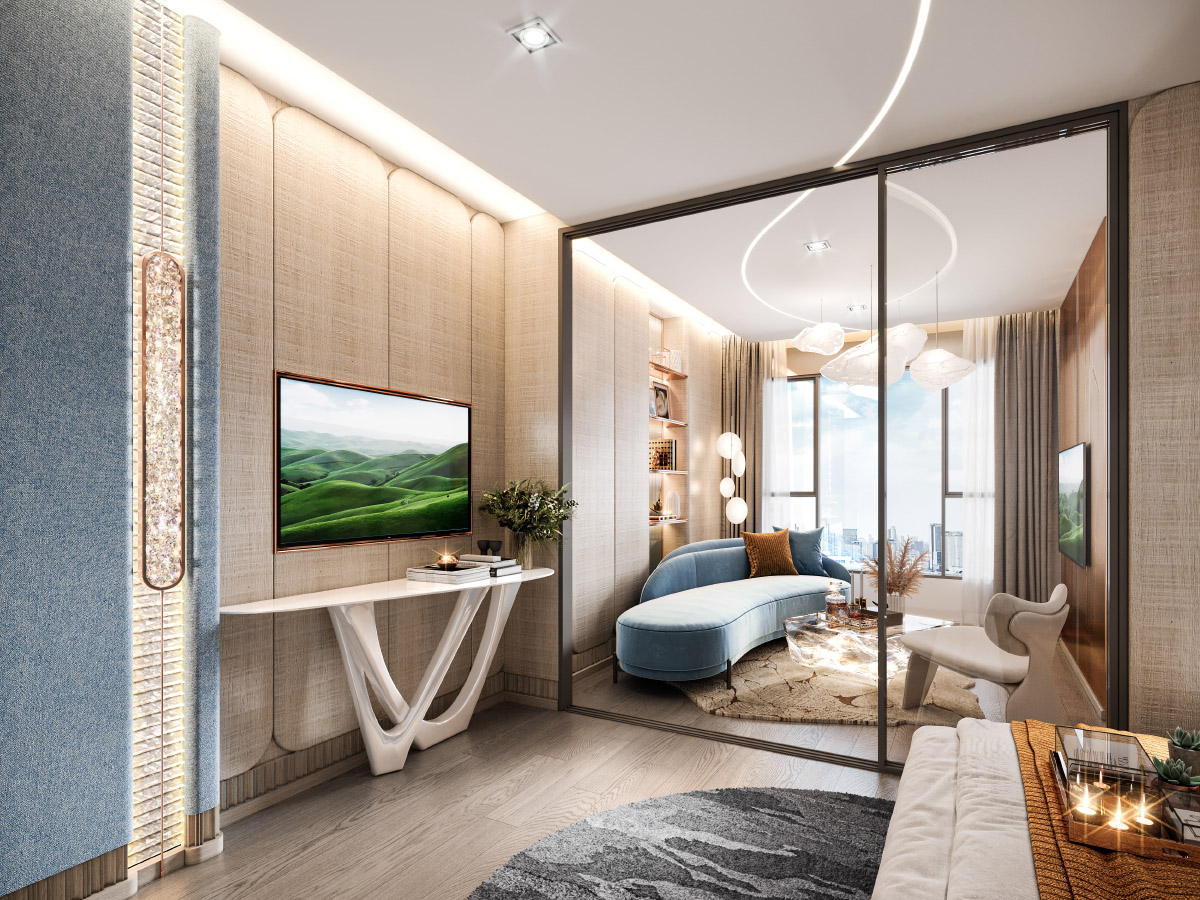 ALL NEW Simplex comprises 11 designs with a functional area of 26.5-60 square metres, special, including a new layout of 1 Bedroom Extra 35 square meters with 2 new functions, Flexible area that can be adjusted according to lifestyle, whether it is a Living area or a Bedroom with air. Including an Extra room that can be changed between a working area or a walk-in closet, creating a fresh appeal to the units. ALL NEW Simplex consist of 1 Bedroom, 1 Bedroom Extra, 2 Bedroom 1 Bath and 2 Bedroom 2 Bath residence types. Prices start at Bht 2.79 million for 1 Bedroom (Bht 98,000/m.).
High-ceiling ALL NEW VERTIPLEX includes 7 designs with a functional area of 26-46 square metres. The layout steps over all the old rules with a Double Volume of 4.45 metres high. The doubled space and new features are available for viewing at the sale gallery. ALL NEW VERTIplex units are available from the 22-28 floors, starting at Bht 3.9 million. (Bht 100,000 million/sq.m.)
Recharge as you desire means you have every dimension of relaxation handy with a super serene oasis-like greenery in the middle of Bangkok offering spacious privacy for real relaxation in a massive common area spanning three floors (Floor G, 8 and 29). The highlight of the common area is a vast green area wrapping the building's Floor G and a deep garden 60 metres long to accommodate a wide range of outdoor exercises. As well as the swimming pool area with Aqua Exercise and Jacuzzi functions for maximum relaxation, and The Healthy Space on the 8th floor with complete fitness equipment in both private and group formats, including The Sky Lounge and The Sky Park, common areas on the 29th floor with 360-degree city views.
Moveable as you desire since the location is close to Victory Monument with Vibhavadi-Rangsit nearby. This super prime location allows you to quickly reach every popular destination for it's by the main road and close to the expressway. The mode of public transportation is also varied with the availability of BTS, MRT and Airport Rail Link rapid transit systems.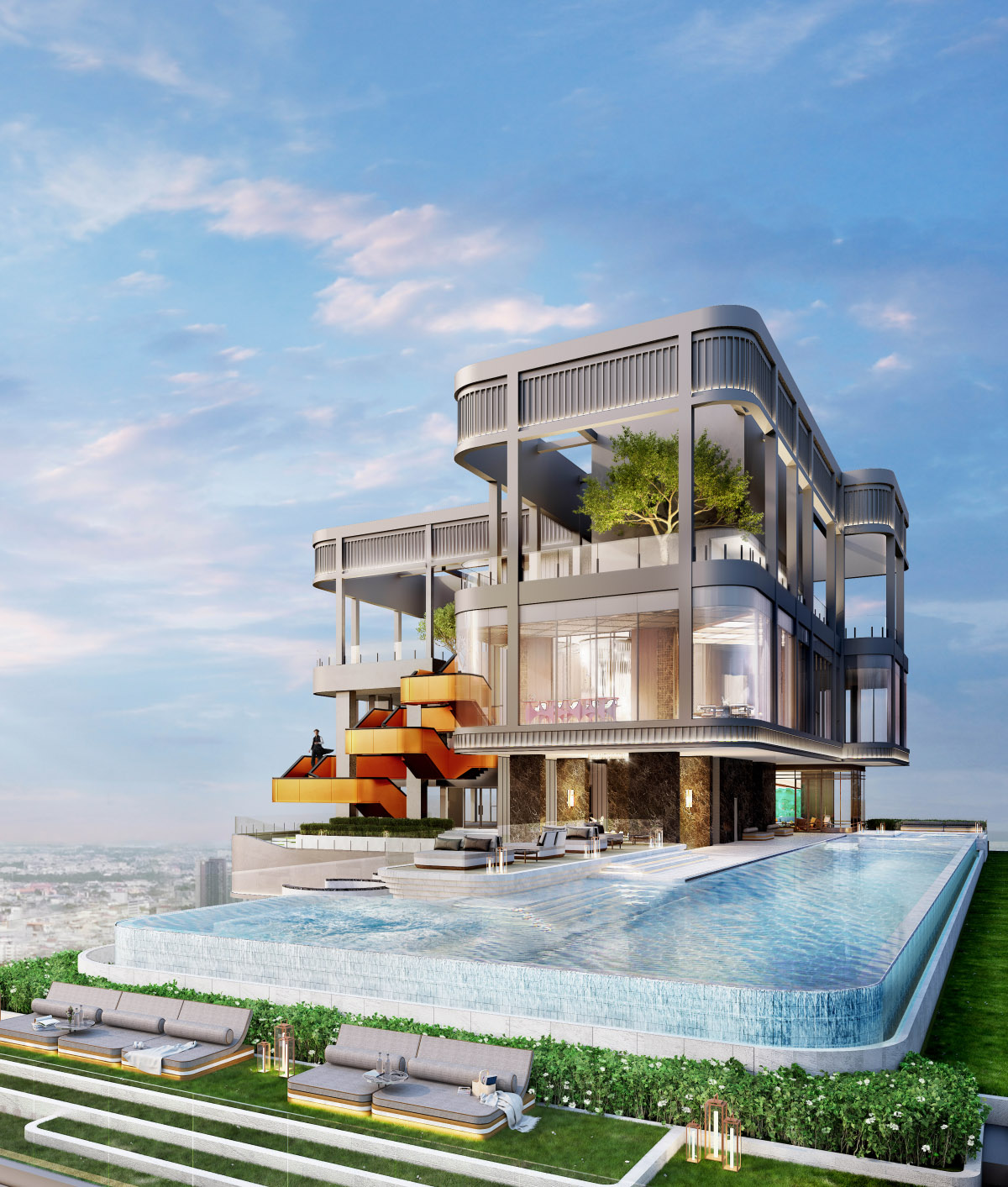 ASPIRE Vibha-Victory is located on a plot of 2-2-70.7 rai. A 29-storey tower, it has 593 units. The value of the project is Bht 2,300 million. The residential quarters are from Floor 8 to Floor 28. ALL NEW SIMPLEX residences starting from the 8-21 floor with a functional area of 26.5-60 square metres, price start at Bht 98,000 / sq.m. or Bht 2.79 million*. While 22-28 floors are ALL NEW VERTIPLEX residences of 26-46 square metres with a starting price of Bht 100,000 / sq.m. or Bht 3.9 million*. The company will open the project's VIP DAY on 11-12 November. Receive a special discount of up to 6%* when booking at an event, and register for additional discounts of up to Bht 100,000* at https://www.apthai.com/th/condominium/aspire-vibha-victory
The other highlight of the period is the latest major flagship joint-venture development called RHYTHM Charoennakhon Iconic. Built on a plot of 4 rai, this 29-storey condominium tower offers a total of 577 units. The whole project is valued at Bht 5,000 million. It is located on Charoen Nakhon Road just opposite ICONSIAM, only 100 metres from the MRT 'Charoen Nakhon' Gold Line. The development concept of the project is Bluechip Design Residence, with a starting price of Bht 159,000 / sq.m. The show unit is scheduled to open for the first visit on 25-26 November. Register to get up to Bht 300,000* discount at https://www.apthai.com/th/condominium/rhythm-charoennakhon-iconic
For updates on all new single detached home, townhome and condo projects from AP throughout 2023, click https://apth.ly/APNewHome2023
#ชีวิตดีๆที่เลือกเองได้ #APTHAI #APNewHome2023 #APCondo #เริ่มชีวิตที่อยากใช้APคอนโด #ASPIREวิภาวิคตอรี่ #RHYTHMเจริญนครไอคอนิค
"AP Thailand – Cheevit Dee Dee Tee Lueak Eng Dai"