AP Thailand unveils RHYTHM Charoenkrung Pavillion
31 January 2023
New ready-to-move-in luxury condo at the heart of the city overlooking Chao Phraya river curve  
AP Thailand unveils RHYTHM Charoenkrung Pavillion
AP Thailand with brand promise of "Cheevit Dee Tee Lueak Eng Dai" ready to deliver new ready-to-move-in condominium RHYTHM Charoenkrung Pavillion worth Bht 4,800 million
Conceptualized as The Luxury Gated Community, the one and only condominium in the Charoenkrung area comes complete with the epitome of living quality and great attention to designing the community to be private, safe and ready to deliver quality time inside quality space
The First Luxury Gated Condominium – First ever offering of a complete all-generation common area on an ideal 3.5 rai space
The Exclusive Private Retreat – the ultimate of aesthetics in city-centre relaxation with great privacy and beautiful panoramic view of the Chao Phraya river curve on Sky Facilities
The Best Quality Living – the ultimate of quality living with only 421 units available together with 100% parking space on a prime site right across Shrewsbury International School Bangkok Riverside Campus and only 5 minutes from the heart of Sathorn
WELCOME TO THE LUXURY GATED COMMUNITY scheduled for 28 - 29 January with real space ready for public view together with new sample units on real building with real view
Special offer for customers who register for advance appointment includes up to Bht 600,000 of discount for City View Condo 1- Bedroom Plus with 43.5 square metres starting at Bht 29 million and Chao Phraya River Curve Condo 2 – Bedroom with 102 square metres starting at Bht 17.5 million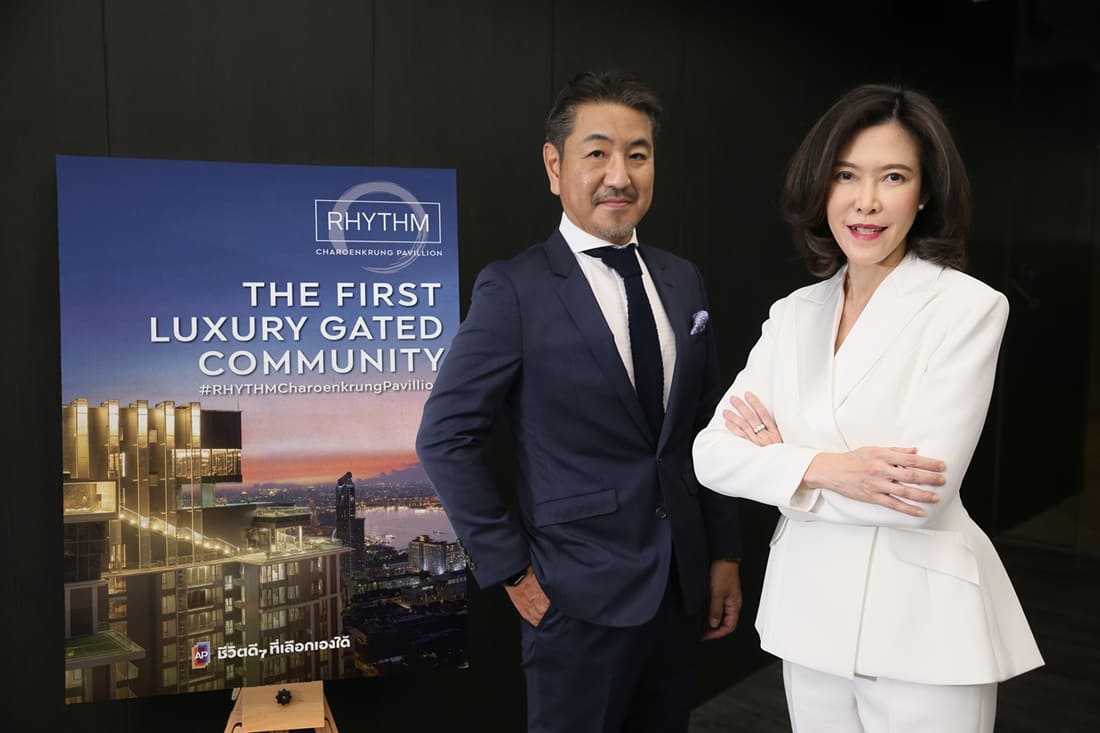 Bangkok (27 Jan 2023) –  Ms. Kamolthip Bumrungchatudom, Chief Condominium Business Group, AP Thailand Public Co., Ltd., said that her company is committed to operating with the promise of giving "Cheevit Dee Dee Tee Lueak Eng Dai" to customers through design and service innovations while helping elevate living quality to bring to life quality society full of ideals. She said AP Thailand is now ready to unveil its newest flagship ready-to-move-in luxury condominium – its first of 2023. Called RHYTHM Charoenkrung Pavillion, it is a city-centre condominium development overlooking the Chao Phraya river curve. Valued at Bht 4,800 million, the condominium is 17th joint venture project between AP Thailand Public Co., Ltd., and Mitsubishi Estate Residence Co., Ltd., (a company of Mitsubishi Estate Group). It is located on a prime area by Charoenkrung Road.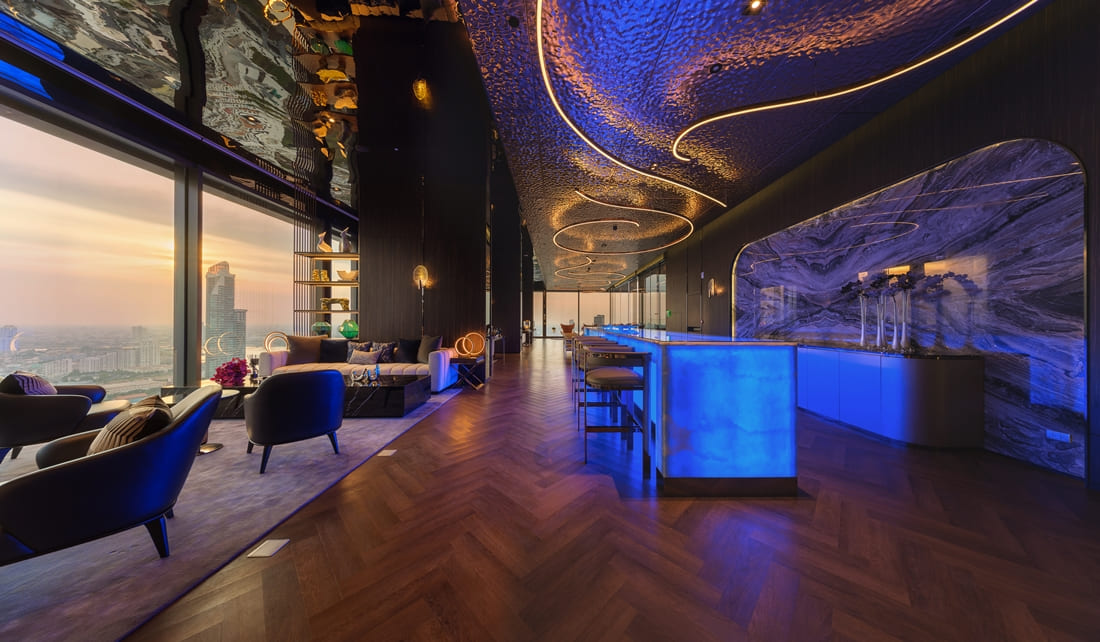 RHYTHM Charoenkrung Pavillion is the first and only ready-to-move-in development around Charoenkrung to introduce Co-Generations Living – a living trend popular with modern urbanites characterized by people of multiple generations living together – in the design of its common area under The Luxury Gated Community concept to ensure that every life grows together in a safe self-sufficient community where every space is designed to accommodate overlapping needs of residents – be they families with children or single individuals, which requires a balance of lifestyles. The company is confident that RHYTHM Charoenkrung Pavillion will become a new iconic landmark that is different and the best on Charoenkrung considering 3 outstanding features, which are: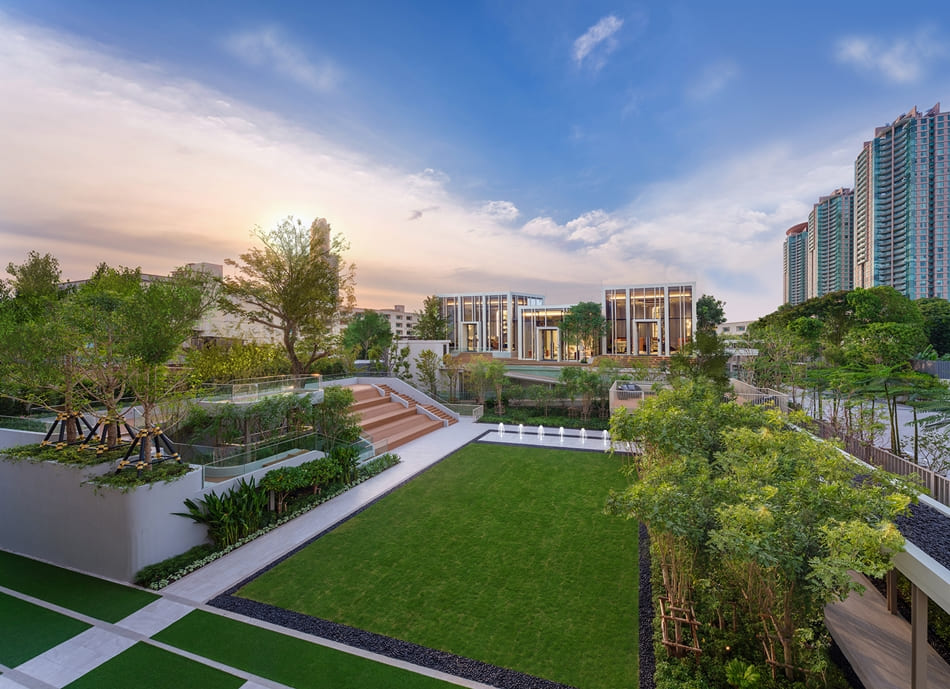 The First LUXURY GATED Condominium
Attention was paid to every minute detail of the community's 3.5-rai common area.  The focus is on meeting the modern lifestyle needs where all generations live together in one place. Maximum balance is struck between privacy and security, especially for small children. There is a clear separation between The Pavillion and The Living Quarter.  Function is divided for family use and private use in The Pavillion, which consists of 3 clear-glass buildings complete with well-balanced functional areas for families and individuals.  They include Study Pavillion for group and individual learning activities, Social Pavillion for exclusive parties and Reading Pavillion which provides a quiet place suitable for book reading in private. The massive panes of clear glass are open to natural lighting and greenery views of giant rain trees and oxygen-producing flora of the Gated Courtyard serving to elevate the quality of living at the heart of the city in a habitat close to nature –  an ingredient for great physical and mental health every day. There is an area for free play where small children can run around freely within the safe sight and there's a special pathway linking directly to the living quarter offering superior experiences with maximum privacy.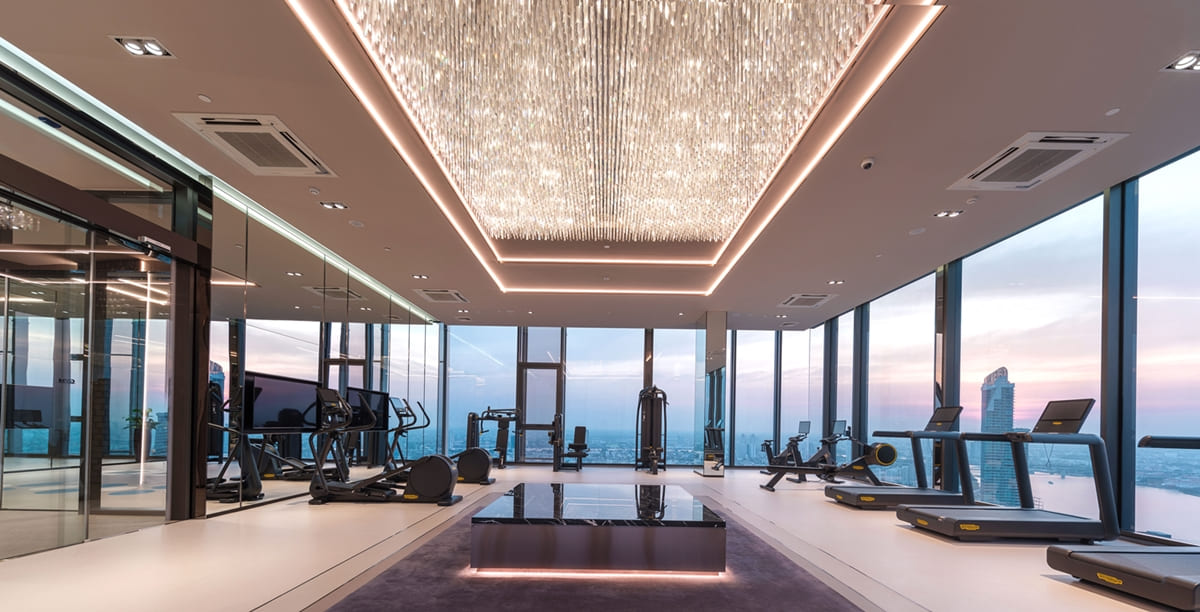 The Exclusive Private Retreat
Relaxing in the midst of city views and the Chao Phraya river curve in fresh, beautiful angles provides the ultimate of aesthetics in relaxation in a high-rise condominium right at the heart of the city overlooking the Chao Phraya river curve. It comes complete with all the facilities to meet all the needs of the residents. Of special note is the Sky Facilities on Floor 42 – 44 with spaces provided for indoor and outdoor activities for a great mix of privacy and functionality for multiple generations of residents ensuring "quality time in co-living space" for everyone. For example, Sky Lounge provides a space for throwing exclusive parties Sky Terrace offers a relaxing corner with a spectacular view of the Chao Phraya river curve
Play Space lets small children play within a comfortable sight of their guardians. And the highlight of all facilities is Infinity Edge Pool. This salt-water swimming pool spans 47 metres long. It provides one of the most beautiful panoramic views of the Chao Phraya River. Kid Pool is designed to be clearly separate from adult's deep-water section. There are also Sky Gym, Private Gym and Personal Training to support trending physical activity – all of them come complete with a full range of equipment from leading brands.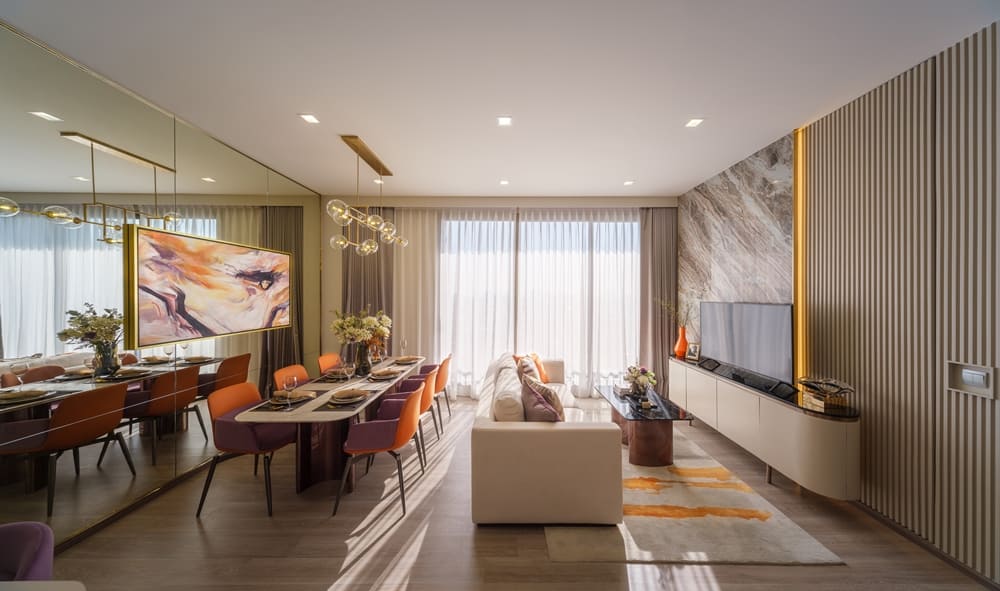 The Best Quality Living
The ultimate of quality living and privacy is assured with the project having only 421 units available. All units in RHYTHM Charoenkrung Pavillion are complete with massive functionality. Areas and zoning are allocated to keep all residents happy together with an interesting mix of privacy and co-living. All functions are connected from a large flexible living room to a multi-purpose room, an open kitchen, a spacious terrace and a large bedroom with built-in water closet. The resident can relax with beautiful panoramic city or Chao Phraya river views on the site just across Shrewsbury International School Bangkok Riverside Campus, within a few steps of walk and only 5 minutes away from the heart of Sathorn.
"RHYTHM Charoenkrung Pavillion stands out with Timeless Design architecture, simple yet powerful. Given its unique design coupled with our great management of the 3.5-rai common area for complete, ideal functionality as well as the units being designed with attention to ideal all-generation living as the first and only place in the same area, we are confident that RHYTHM Charoenkrung Pavillion will be a new iconic landmark and the ultimate of AP Thailand's highlight condominium we are ready to deliver as our first development this year and that it will instantly attract an interest from prospective customers in and around Charoenkrung," added Ms. Kamolthip.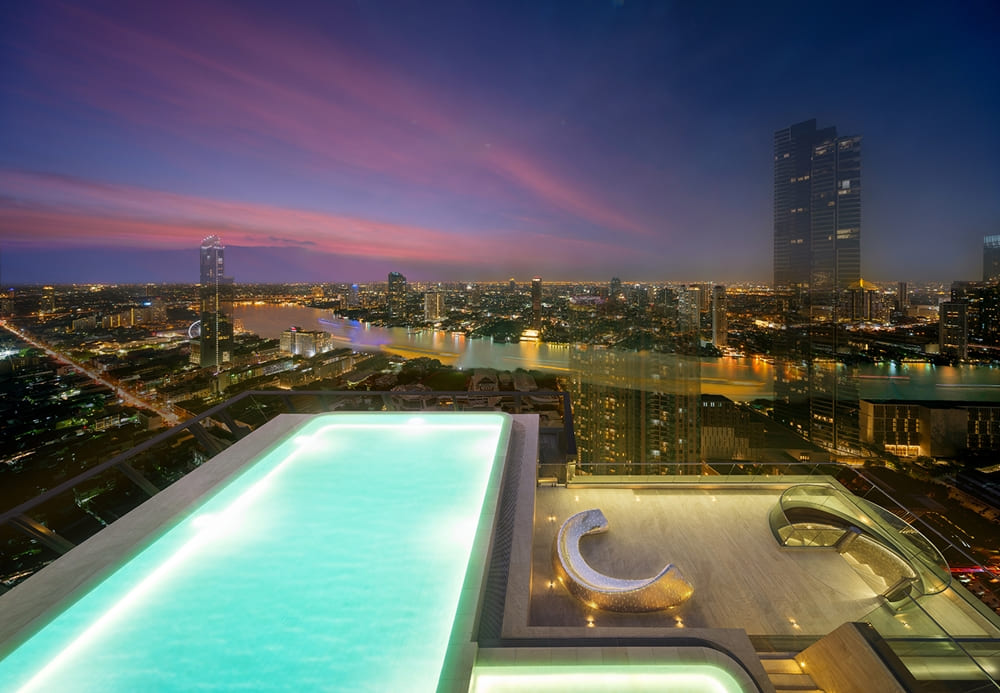 RHYTHM Charoenkrung Pavillion ready-to-move-in luxury condo at the heart of the city overlooking the Chao Phraya river curve is the only development around Charoenkrung to offer a full package of living quality with attention to designing a community for optimum privacy and security. AP Thailand is ready to deliver quality time within quality space to its customers and is scheduled to hold the WELCOME TO THE LUXURY GATED COMMUNITY event on 28 – 29 January where the real space of sample units on the real building with real view will be open to the public for the first time. Customers who register for advance appointment are eligible for up to Bht 600,000 of discount for City View Condo 1- Bedroom Plus with 43.5 square metres starting at Bht 7.29 million and Chao Phraya River Curve Condo 2 – Bedroom with 102 with square metres starting at Bht 17.5 million. To register for appointment to visit the project, go to https://bit.ly/RhythmCharoenkrung or call 1623.
"AP Thailand – Cheevit Dee Dee Tee Lueak Eng Dai"